April 16, 2015
Andrey Polevoy
Rusvesna.su
Translated from Russian by Kristina Rus
Writing about a death of a man is always difficult. Especially when a bright person has left. Especially when a friend has left.
Typical words of condolences, irreplaceable loss, grief, regret that more was not said and not done in time can hardly express the whole gamut of emotions.
Many will write about the murder of a journalist, writer, historian and public figure Oles Alekseevich Buzina. Most with sympathy – there are not so many good writers in the post-Soviet space, and a number of honest and competent commentators in Ukraine for the year of the "reign" of the new regime was reduced to a few.
Of course, there will be people (if I can call them that) – who will rejoice at the shooting of Oles Buzina in the back. Actually, no need to look hard for them.
Officials will join the celebration. By virtue of their position, they are trying to use the murder for political purposes. However, predictable – blaming and shifting the responsibility on Russia, no matter what a nonsense it may seem.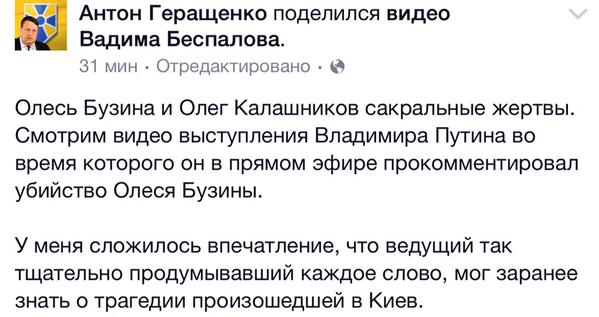 Anton Gerashchenko:


Oles Buzina and Oleg Kalashnikov are sacrificial lambs. Let's watch the video of Putin's speech, when he made a comment about Buzina's murder on live TV.


It seems, that the host thinking about each word, could know about the tragedy that happened in Kiev ahead of time.
These are the realities of modern Ukraine – terror, lawlessness, statehood, which is already gone, just not everyone realized it. Hardly the murder of Oles Buzina will be properly investigated, and it is unlikely that this murder is the last.
As far as personal emotions…. Oles Buzina – is not the image on the TV screen or from the presentation of a new book – but a real, alive Buzina, was a wonderful person and friend.
A year ago, when the inevitability of the nationalist coup in Kiev became clear, many tried to persuade Oles to leave the country. The ideology, the first shoots of which were already dangerously protruding from Kiev ground fertilized by burned tires, by definition, excluded the existence of journalists and writers, who have their own opinion. Especially, when they are not afraid to state it, trying to find a point of compromise, acceptable to all citizens of Ukraine.
Oles loved Ukraine. In her classic, not drenched in blood and lies version – with sunflowers, canonical cherry garden, Gogol, Taras Bulba and "Only the old are going to fight".
"I am Ukrainian – this is a type of Russian" – he explained his internal identification at one conference.
Oles did not heed the appeals to leave then. And did not listen later.
To all appeals, he said something like this: "If I leave, like the others, then I will be forced to write about Russia, to pay more attention to the Russian events. In Russia, most likely, everything will be fine anyway. And I live in Kiev, "the mother of the Russian cities", here is my home, and I want to write about what is connected with it. Because if I don't do it, then who else will do this?".
And Buzina could not stop writing. Including because he was a classical writer – lived solely on the income from his literary work.
Walking in Kiev with Buzina was magnificent. About Kiev – classic, Kiev of Gogol and Bulgakov, he knew, it seems, everything. I even offered him to write a book "The Guide to Kiev with Oles Buzina". Although this guide would be peculiar.
"Here we are on the same street, where Nikolka from "The White Guard" ran from Petlura, here he turned to… by the way, come on, I'll show you one place, where they have the best pirozhki with tea!" – this is how these walks went.
If only I could write down everything that was said during these walks… During one of them Oles created the adage of Ukrainian mentality, commonly known in narrow circles.
– The perception of our people, – said Oles, – is based on the continuous transition between the two provisions: "It will happen somehow…" – and – "Who knew that would happen!"
Oles also loved Moscow. Tried to study it thoughtfully, walking by foot, singing under his breath "My dear capital, my golden Moscow…" Surprisingly, but coming to the capital for a few days, he quickly was able to adapt to the level of a native Muscovite.
Specializing in studios of news agencies, where they loved inviting him for his competence in Ukrainian affairs and charisma; bookstores; cafés and flea markets. In the last couple of years, Oles increasingly noted that he was much more comfortable in Moscow metro than in Kiev.
– You know, – he said, – in the Moscow metro I am an ordinary stranger.
In addition, the concentration of famous personalities in the Russian capital is higher and they are not so conspicuous. And in Kiev he had to wear a cap, so as not to provoke some fool unnecessarily.
There were reasons for that. Oles loved sports, and regularly ran in a park, swam in the winter and kept himself in good shape. A couple of times during these runs he was attacked either by the members of the Kiev's "Svoboda" or someone like that.
– Today I played Ivan Poddubny! – Oles commented on his adventures with a reference to another hero [boxer] from Malorossia.
Three years ago I talked Oles into visiting Sevastopol. At the same time presented his new book "The Resurrection of Little Russia."
"I think Ukraine is a like a leg, which cut itself off from the Imperial body, cut off, but not quite. There are some tendons left, vessels, blood goes through a little, and this leg is dreaming and says, "I will join the EU, the European centipede". And it is told by everyone: "Where are you going to join? There each leg has a spare. There you are an extra 41st leg, which nobody wants!" – Oles quoted his essay at the meeting in the "Atrium".
Walking in Sevastopol with Buzina was difficult, though for different reasons – too often we were approached by people asking for a photo.
In the last year, we talked on the phone more often than usual. Oles was very worried about the current events, it seemed to him an impossible barbarity that what was described in the works of Bulgakov, is repeated before his eyes. I then sadly joked that Oles now has no need to think about the main plot of his Main Novel – the connoisseur of Bulgakov can only take the beaten path, describing a civil war in Ukraine in the year 2014 instead of 1917.
Oles was very interested in life in Sevastopol – he, as an honest journalist, tried to understand the flows of disinformation. And as a Russian Ukrainian, sincerely believed that someday things will get better. "Somehow it will happen", he would say…
…one can write much more about a friend Oles Buzina than about Buzina-writer. Unfortunately, there can be no new developments in this story after April 16, 2015.
Thank you, Oles. Thank you for everything.