June 4, 2015
Ukrainian military to issue draft notices during Kiev LGBT parade
Translated from Russian by J.Hawk
The participants in the Equality March scheduled for June 6 in Kiev may receive their draft notices. According to the GenStaff representative Vladislav Seleznyov, the parade may be attended by military commissariat officials who will personally present the activists their notices. He also said that the commissariats are not judging individuals on the basis of political or other factors.
"As far as we are concerned, they are citizens of Ukraine who should defend their country," Seleznyov added.
GenStaff press service assured on Facebook such actions would be lawful.
"The law does not specify where the summons should be delivered. They can be delivered by any means, and it does not contravene the Article 19 of the Constitution."
The GenStaff also reminded that each citizen can lodge a court complaint against officials.
"We are emphasizing that the notice is not a ticket into the army. It's only an invitation to the commissariat to clarify information and/or to undergo a medical inspection," GenStaff Facebook announcement says.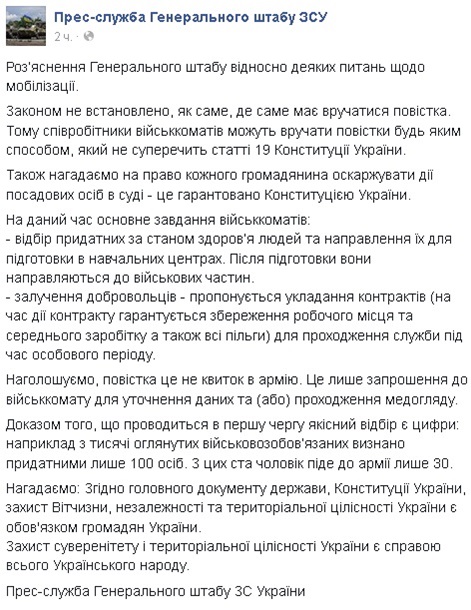 As a side note, the Right Sector has promised to try to disrupt the June 6 Equality Parade.

J.Hawk's Comment: The Ukrainian LGBT community appears to be operating under some sort of delusion as to what kind of a country today's Ukraine is. But that doesn't seem likely to last much longer. The only question is, which will last longer, the delusion or the country…
To make things more interesting, Kiev mayor Klichko asked the march organizers to call it off, so as to avoid yet another violent confrontation in the capital. It may be that the threat of receiving a draft notice may prove an even greater deterrent than facing the Right Sector!