July 15, 2015
A Little Humor: US Cold War Propaganda from 1951
By mihalchuk_1974
Translated from Russian by J.Hawk
I found this cool set of articles from October 27, 1951 Collier's Magazine. It has 132 pages. All of them dedicated to World War III which will end with an inevitable victory by the Forces of Good (the West) and equally inevitable of the Forces of Evil (Russia). Our country will be partitioned, occupied, and we will finally become democrats. Enjoy these "happy pictures" with comments.
Collier's WW3 scenario posits Russia making trouble in Europe because of Yugoslavia. Then their rudeness reached the point of dropping a nuclear bomb on Washington! Here's Washington after Russia's treacherous attack.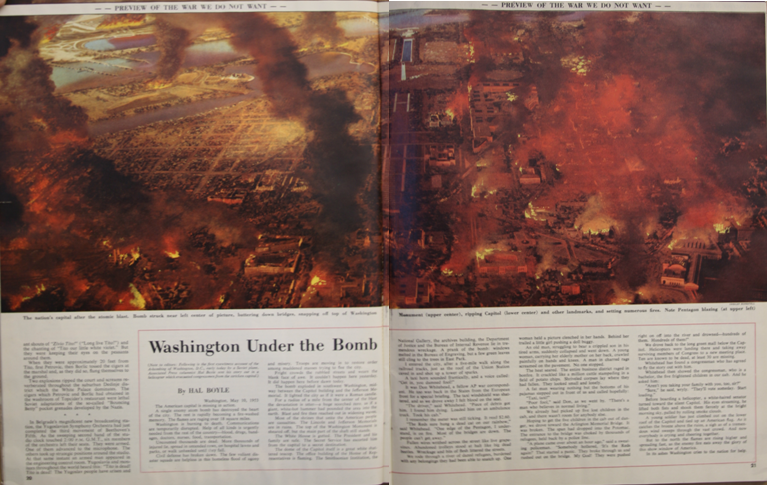 The elves come to and…a bomb drops on Moscow. However, it didn't quite hit the Bullseye of Evil, the Kremlin (Dol Guldur?).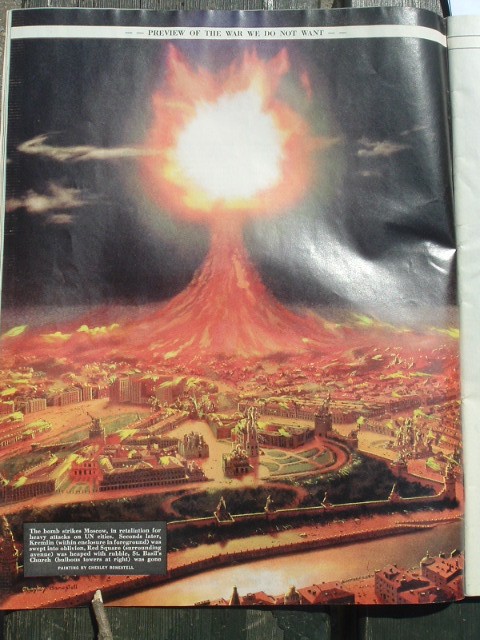 But that's just the beginning–bold US paratroopers land in Siberia in order to free Gulag prisoners.
But Soviet zeks are not pushovers. Not content with waiting for their courageous liberators, they liberate themselves and proclaim their own republic. Democratic, of course.
In the meantime, the Great Dark Lord Stalin dies. The mantle of leadership is assumed by the Dzhugashvili dynasty's sole successor, Vasiliy, or his minion Beria. But all that's left to them is to capitulate before the noble liberators. Vasiliy is taken prisoner.
A little American humor. A courageous GI talks to a Russian prisoner of war:
"Is that all you've got to say for yourself, buddy? What about th' lynchings in th' South?"
In the meantime, new life begins in Russia. Free and democratic. What Russians have dreamt about for centuries (because what else do Russians have to dream about?)
Russia finally becomes sufficiently democratic. And Moscow earns the honor of hosting the Olympics.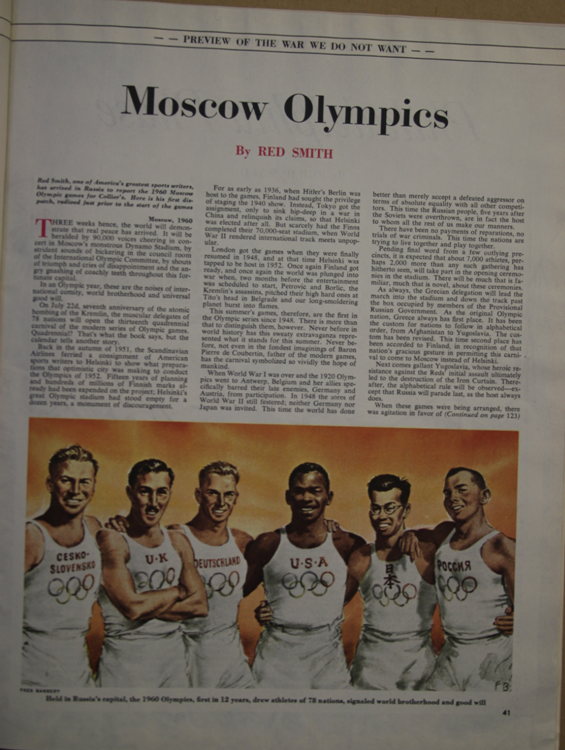 In general, it's a great issue.
Here's a full-page spread with a very expressive caption: "The Face of the Enemy."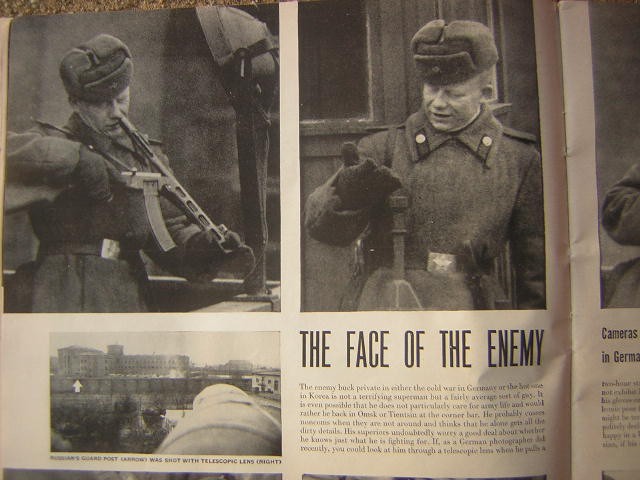 The entire issue can be downloaded here: http://rutracker.org/forum/viewtopic.php?t=3770402