January 8, 2016
Translated from Russian by Kristina Rus
Saudi Arabia is preparing to tighten the belt
The budget deficit in Saudi Arabia (in ratio to GDP) is equal to the budget deficit of Greece before its debt crisis, according to Deutsche Bank.
It is expected that in 2016 a country rich in oil reserves will have a deficit of about 13% of GDP. Approximately at the same level was the deficit of Greece in 2009.
Experts note that the reason is low oil prices. And Saudi Arabia played its part in it.
Saudi Arabia has more expenses than revenues, with oil at $37 per barrel. It is expected that next year's spending in Saudi Arabia will reach $224 billion, revenues – $137 billion.
Saudi Arabia revenues vs. expenses
Despite the fact that government spending in Saudi Arabia decreased sharply, it must go further. The country intends to cut subsidies on petrol, which will lead to increase in prices of 50-66%, in addition, tariffs for water and electricity will go up. However, according to financial analysts, the largest item of expenditure in Saudi Arabia is the army.
Two times more is spent on defense than on health, social needs, etc. And along with military conflicts in Yemen, Syria and unrest in the Middle East, Saudi Arabia is unlikely to change this ratio in the near future.
The budget deficit in the amount of 13% is pretty big, but not so huge for the country, which doesn't have the debt like Greece.
The problem is that Saudi Arabia often spends more than planned, and after the crisis in 2008 this trend has increased. According to Deutsche Bank, the deficit could be closer to 21% of GDP by the end of 2016 if expenditures exceed income as last year.
In any case oil will not return to its highs in the near future. Oil-producing cartel OPEC released a report last week stating that a barrel of "black gold" will not exceed $100 even after 2040, meanwhile, Iran is back on the global market, declaring that it is ready to sell oil at $1 per barrel.
Thus, despite the fact that Saudi Arabia may have never encountered the concepts of "austerity" and "budget cuts" like European nations, it has several decades to get used to them.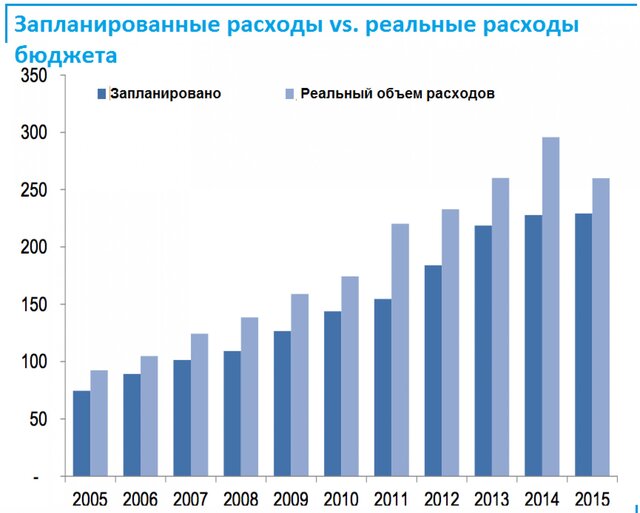 Saudi expenses planned vs. actual