How the Shot Russian Opposition Leader Boris Nemtsov Accumulated One Billion Dollars
March 21, 2016
Translated by Kristina Kharlova
Litigation between the heirs of Boris Nemtsov revealed that his estate is estimated at one billion dollars. This amount was named in a telephone conversation by Alexander Karabanov, the lawyer of Yekaterina Iftodi, claiming that she has a son from Nemtsov. Not all is clear with the children of Boris Yefimovich. By various estimates, he fathered from three to five kids. But this, as they say, is another story.
Much more interesting are the sources of the money accumulated by a humble and honest leader of the opposition, whom the non-system protesters now refer to as almost "an icon of liberalism and democracy" in Russia. A billion "green" is a very serious amount. Which is not easy to accumulate, even in a serious government position.
Let us doubt the numbers. We can hope that it is several times less, and the deceased was an honest man who simply got very lucky in life. However, even if you reduce this amount and remember what was known about the income of Boris Yefimovich, still it seems inappropriately high. Meanwhile the income of the opposition leader sharply varied.
For example, in 2006 Nemtsov's income was only 516,943 rubles. And in 2008, when Boris Efimovich ran for mayor of Sochi, being, incidentally, officially unemployed, he declared income in the amount of 183 million rubles.
The money, according to the declaration, came from some "Fund for social support of civil society" and "Social programs fund", securities trading and income from investments in "Alfa-Bank". In 2006 he officially declared 30,693 rubles 34 kopecks, 378,775 rubles and 36 kopecks and 132,872 rubles 79 kopecks in Alfa-bank investments.
In this regard, I think all citizens of our country, have one question: what's the type of this investment instrument in "Alpha" that generates a thousand percent per annum?
Where to invest the money in order to become the owner of nearly two hundred million rubles?
However, there is another theory. In the period from 2004 to 2005, the opposition politician was the chairman of the Board of Directors of "Neftany" oil company. The company suffered a sad fate. Prosecutor's office found that "the bank, a part of "Neftany" group was under control of a criminal group, committing illegal banking operations, receiving "criminal proceeds in the amount of 57 billion rubles". It is clear that as soon as inspections commenced, Boris Efimovich promptly resigned.
However, it happens to everyone – and maybe Nemtsov just happened to be at the wrong time in a bad position? But there is reason to believe that non-standard use of official authority did not bother the former deputy Prime Minister. In 2013, a very interesting story came to light about the shares of "Gazprom", which Boris purchased in the late nineties. He openly wrote about it: "back in 1998, I bought the shares of Gazprom at a price of 10-15 cents each, and by the mid-2000s they have increased in price 50-100 times".
In that correspondence, he stressed that at the time of purchase he no longer worked in the government of the Russian Federation.
Meanwhile, Nemtsov worked in the same government until August 24, 1998 and twice, in 1997 and in May 1998, was chairman of the board of state representatives of Gazprom. Yeah, well, also Nemtsov and the "nice people" from the government organized the default.
That is, the scheme is as follows: Nemtsov, knowing that everything is about to collapse, resigned, and unburdened by ethics of government office, acquired shares of a Russian gas magnate.
By the way, it is interesting why these Gazprom shares have not been declared in 2006? Apparently, he was being modest.
We must recall the features of Russian parliamentary system of late nineties and early two thousands. From 1999 until 2004 Boris Efimovich was deputy of State Duma and even deputy speaker. There is an opinion that even then, Boris Yefimoich could get something for lobbying of certain interests.
Later, in 2008 he did not hesitate to promise "for a small penny" that if he becomes the mayor of Sochi, he will cancel the Olympics. And in 2008, Boris Efimovich had no levers of real power. It is easy to imagine the scale of Nemtsov's promises, when he did have the power.
After the Duma, the opposition activist labored on the councils of SPS and "Solidarity" parties. And such parties, then, and now – are the main "grant feeders" for the realization of various and not very useful for our country projects. That, in fact, was not hidden – "Solidarity" publicly quarreled about Western grants and argued that receiving money from IRI, NED, NDI, USAIS for "democracy" is not shameful. In short, this, could also be a source of riches.
Well, in the end, some number accumulates. Maybe not a billion dollars, but close to a billion rubles. However, it's not even about the money. In the end, to count the money in the pockets of a dead man is the work of lawyers who are now doing this. Let Boris Yefimovich rest in peace. Another issue is that we again run into the paradox of liberal thinking of now alive associates of Nemtsov.
In general, for many years everyone knew about Nemtsov's hundreds of millions of rubles, acquired if legitimately, but not very honestly. His income was often on the news.
To add it up – is a matter of half an hour searching in Yandex. But it doesn't add up with his portrayal as "honest and principled politician", who "has been there not for the money, but exclusively for the idea".
(Alexander Samoilov)
***
Anna Duritskaya, whom Nemtsov called "Bounty" was with him at the time of his shooting near the Kremlin last year:
Zamira Duguzheva, whom he called "Caucasian kitty":
33-year old Yekaterina Iftodi is trying to prove her 2 year-old son was fathered by Nemtsov:
Irina Koroleva who worked in the Kremlin gave birth to Nemtosv's daughter Sophia in 2004: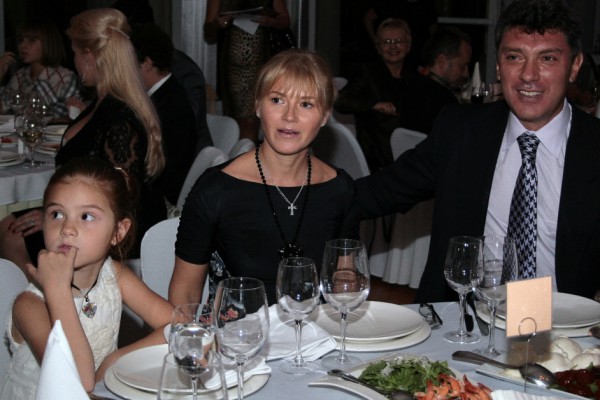 25 year-old Anastasia Ognevaya was spotted with Nemtsov in OAE in 2012: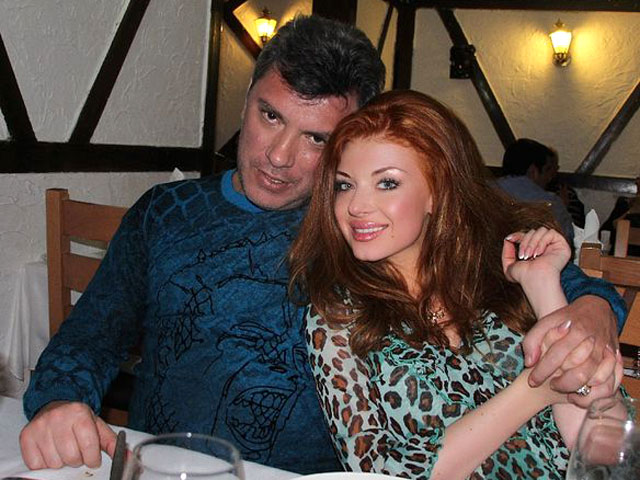 Nemtsov and his children:
With wife Raisa Akhmetova: