Presidents of Russia and Turkey have officially announced the construction of the Akkuyu nuclear power plant in Turkey.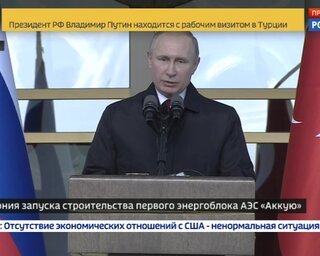 Russia will involve local businesses in the construction of the Akkuyu nuclear power plant. This was stated by Vladimir Putin at a ceremony today in Turkey.
The leaders of the two countries launched the construction of the first power unit of the nuclear power plant, the world's first nuclear power plant project implemented under the model of build-own-operate (the Russian side provides financing, operation and management of the station). 
Investments in the project are estimated at $ 22 billion with Russia fully financing its construction. At the same time, Rosatom has the right to sell up to 49% in the project to other investors. Turkey provides tax benefits for the project.
The Akkuyu nuclear power plant with four VVER-1200 power units will be built in the Mersin province on the Mediterranean coast. An agreement on this between Moscow and Ankara was signed in back in May 2010. The first power unit of the NPP is going to be commissioned in 2023.
"Today, we are not only present at the construction of the first Turkish nuclear power plant, but we are also creating the basis for Turkey in the nuclear industry as a whole. We begin the creation of a new industry, "Putin said."I note in particular that Russian partners plan to actively involve the Turkish small and average businesses."
"We have an ambitious task – to launch the first power unit in 2023, timed to coincide with the 100th anniversary of the founding of the Republic of Turkey," the Russian president noted.
"Russia is one of the recognized leaders in the field of nuclear power.With the construction of the station, the most advanced engineering solutions, cost-effective and reliable technologies will be applied, such technologies that we ourselves apply in Russia. The highest safety standards and the strictest environmental requirements will be observed", Putin stressed.
"This station will provide 10% of the need for electricity in our country, it is clean energy, it will ensure our energy security and will play an important role in combating climate change," Erdogan said.