Russia's military spending in 2017 decreased by 20% to $ 66.3 billion. This is the first annual decline since 1998, according to the report by Stockholm International Peace Research Institute (SIPRI).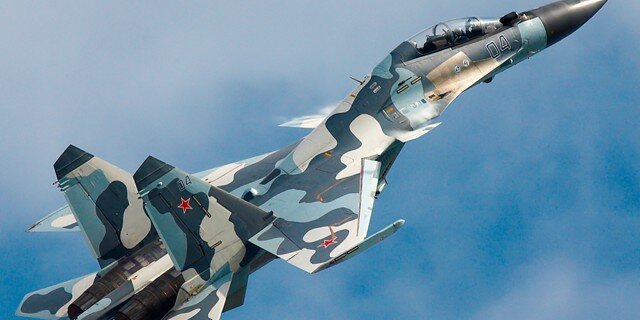 "Military modernization remains a priority in Russia, but the military budget is limited by  economic problems that the country has faced since 2014," said Siemon Wezeman, senior research fellow at the SIPRI AMEX program to study military spending in the world.
At the same time, the NATO bloc in Europe increases spending.
"Partly due to the perceived growing threat from Russia, military spending in Central and Western Europe increased by 12% and 1.7%, respectively, in 2017. Many European countries are members of the North Atlantic Treaty Organization (NATO), and within this framework the Allies agreed to increase.The total military expenditures of all 29 NATO members amounted to $ 201 billion in 2017, which is 52% of world spending,"the report says.
After a 13-year growth in world military spending from 1999 to 2011, 
and relatively constant costs from 2012 to 2016, 
total global military spending rose again in 2017 – by 1.1% to $ 1.7 trillion.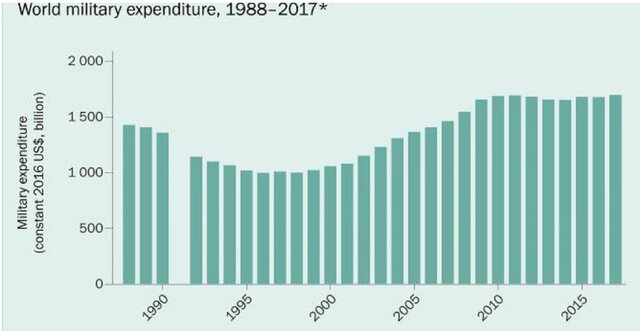 Military spending of all countries in the world in 2017 amounted to 2.2% of the world's gross domestic product (GDP) or $ 230 per person.
"The increase in world military spending in recent years is largely due to the significant increase in spending in Asia and Oceania and the Middle East, such as China, India and Saudi Arabia," said Professor Nan Tian, ​​research fellow at SIPRI AMEX.
"At the global level, the weight of military spending is clearly shifting from the Euro-Atlantic region," the expert said. The United States still has the highest military spending in the world.  In 2017, the US spent more on armament than the other seven countries with the highest costs combined.
The US military spending is stable for the second year in a row – $ 610 billion.
"The trend towards a reduction in US military expenditures, which began in 2010, has come to an end," said Oll Flörant, director of the SIPRI AMEX program. The US will increase in order to support the expansion of military personnel and the modernization of conventional and nuclear weapons. "
China
Military spending in Asia and Oceania rose in 2017 for the 29th consecutive year.
China, the world's second largest military spending country, increased its military spending by 5.6% to $ 228 billion in 2017. The share of China's military expenditures in total world military expenditures increased from 5.8% in 2008 to 13% in 2008 2017
India in 2017 increased spending on armament by 5.5% to $ 63.9 billion, and South Korea – increased by 17% to $ 39.2 billion "The tension between China and many of its neighbors continues to stimulate the growth of military spending in Asia, "said Simon Wezman, senior research fellow at SIPRI AMEX.