By Lee Je-hun & Seong Yeon-cheol – The Septempter Pyongyang Declaration outlines practical, concrete measures for peace and denuclearization
.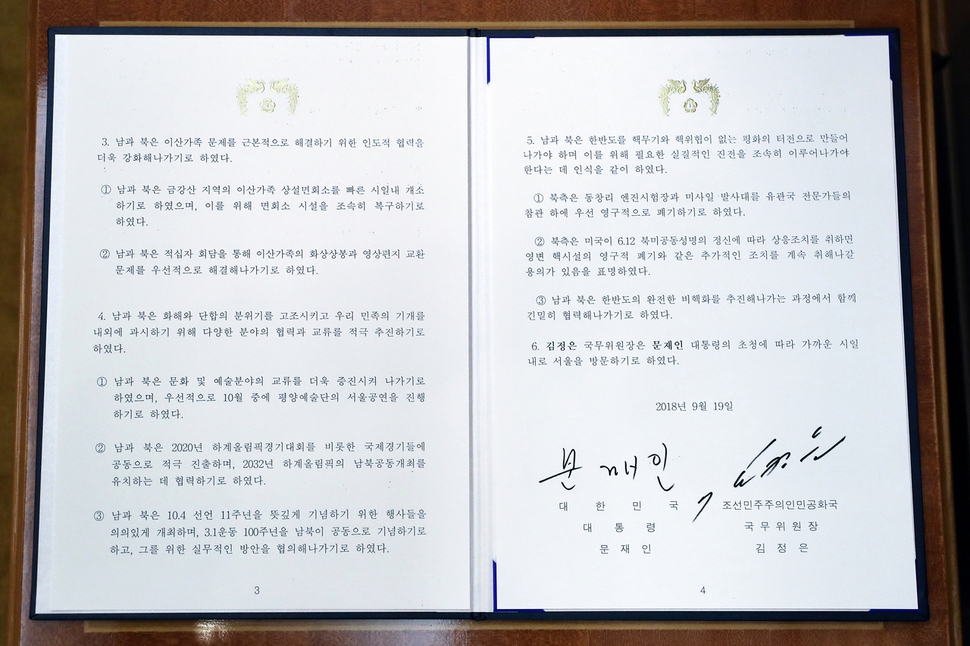 Through the Pyongyang summit, South Korean President Moon Jae-in and North Korean leader Kim Jong-un have declared the beginning of a new journey of irreversible peace, fulfilling the hopes of the 80 million people living on the Korean Peninsula.After the conclusion of the summit's second meeting on Sept. 19 at the Paekhwawon Guest House in Pyongyang, the two leaders appeared determined as they jointly announced the September Pyongyang Declaration and Military Agreement for the Implementation of the Panmunjom Declaration. They spoke with a resolute attitude, their voices filled with conviction.
"There will no longer be war on the Korean Peninsula," Moon declared. "We are not far away from complete denuclearization of the Korean Peninsula. Inter-Korean relations will remain steady, without faltering."
Kim then spoke, his words resounding and measured. "Our shared dreams, embodied in the declaration, will soon become reality. We are not afraid of any adversity."
The seeds of peace sown in Panmunjom on Apr. 27 during the "spring of reconciliation," have now bloomed into "full-fledged fruit" (Kim) and "fruit of peace and prosperity" (Moon) that are ripening during the "autumn of cooperation."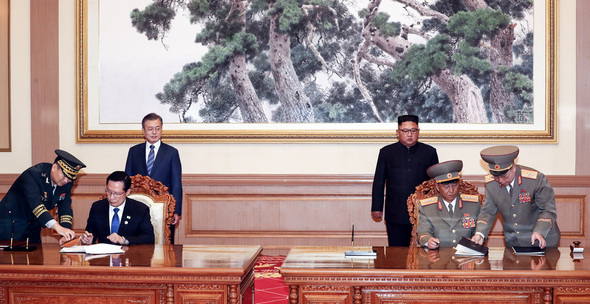 Promising prospects for 2nd North Korea-US summit
Based on the outcome of the Pyongyang summit, a second US-North Korea summit is on the cards after Moon meets with US President Donald Trump in New York during the UN General Assembly on Sept. 24. If Kim visits Seoul during winter near the end of the year, we will put the "legacy of wretched and tragic confrontation and hostility that has lasted for decades" (Kim) behind us and enter a new era of irreversible peace.
The principal achievements of the Pyongyang summit are the advent of peace, eliminating the threat of war and regaining momentum for denuclearization on the Korean Peninsula. And this is not just rhetoric. The military agreement is as thorough as an insurance contract. It is far more detailed than all other inter-Korean agreements to date. The document contains five appendices in addition to the main text and signals a strong commitment to action from both Moon and Kim.
The military agreement is deemed an annex to the Pyongyang Declaration, emphasizing the commitment of both leaders to playing a direct role in the implementation of the agreement. As an agreement was reached regarding a visit to Seoul by Kim on one of the 104 days remaining before the end of this year, it is clear that both leaders aim to swiftly implement the Pyongyang Declaration and military agreement.
.
.
.
.
Big steps toward formal cessation of hostilities
However, neither Moon nor Kim mentioned the clause of the Apr. 27 Panmunjom Declaration which stipulates that the two Koreas agreed to declare an end to the war "during this year," and the issue of declaring an end to the war was not mentioned in either of the Pyongyang documents.
However, the outcome of the summit can be viewed as an de facto end-of-war declaration by both leaders. The two heads of state promised to swiftly implement the military agreement, which states that a joint military committee will be set up to put an end to hostile military relations, with the goal of "eliminating any practical threat of war across the entire territory of the Korean Peninsula and fundamentally alleviating hostile relations." (Article 1, Pyongyang Declaration)
This strategy aims to bring forward the formal cessation of hostilities through the implementation of practical peace.The second achievement of the Pyongyang summit is the strategic plan of both leaders to advance North Korea-US relations through rapid improvement and progress in inter-Korean relations. Moon and Kim included this strategic action plan in the Pyongyang Declaration and military agreement.
Two action plans for denuclearization in Pyongyang Declaration
Most importantly, the fact that a specific plan for denuclearization was agreed upon and released for the first time in inter-Korean summit history is a historic turning point for peace on the Korean Peninsula. There are two action plans for denuclearization stipulated in the Pyongyang Declaration.
The first is the permanent closure of the missile engine test site at Tongchang Village, a promise that was made with no conditions attached. North Korea even promised to allow "inspections by experts from neighboring countries," making it clear that the North intends to leave no room for critics who may view this as merely a charade.
Second, the two parties expressed "willingness to push ahead with further measures including the permanent closure of the Yongbyon nuclear complex." Although a condition was added that states "if the US follows through with corresponding measures in the spirit of the June 12 North Korea-US Joint Statement.," it is notable that the Yongbyon card has already been put on the table.
US reciprocation vs. self-determination
<It appears that Kim has presented Moon with a series of Chuseok (Korean Thanksgiving) gifts that he can offer to President Trump when convincing him to push ahead with reciprocal measures towards North Korea and a second North Korea-US summit. Although it is not mentioned in the Pyongyang Declaration, it is possible that North Korea may be willing to invite representatives from the US and the International Atomic Energy Agency (IAEA) to inspect the Yongbyon nuclear facility at an appropriate time as a stepping stone towards reciprocal measures from the US and finalizing a second North Korea-US summit meeting.
With regard to the issue of peace, President Moon and Chairman Kim have demonstrated a strong commitment to achieving "Korean autonomy and the principle of self-determination" (main text of the Pyongyang Declaration).In terms of exchange and cooperation, in line with the spirit of "mutual reciprocity, common good and shared prosperity" (Article 2, Pyongyang Declaration), the two leaders agreed to swiftly implement a wide range of cooperative measures including implementing the Apr. 27 Panmunjom Declaration (beginning construction on connecting highways and railroads along the east and west coasts by the end of the year); putting forward a vision for cooperation (reopening the Kaesong Industrial Complex, resuming tourism on Mount Kumgang and establishing special economic zones on the east and west coasts "as conditions permit"); pursuing environmental cooperation (beginning with forests); and strengthening cooperation in epidemic prevention, healthcare and medicine.
Limits on economic cooperation posed by UN sanctions
The West (Yellow) Sea Joint Economic Zone is a new vision of economic cooperation that combines the October 4 Declaration's "West Sea Special Zone for Peace and Cooperation" and President Moon's "border region unification economic zone" (mentioned in his Liberation Day speech).Similarly, the East Sea Joint Tourism Zone combines Mount Kumkang and Wonsan (Kalma Coastal Tourism Area) in North Korea with Mount Seorak in South Korea. Of course, these visions can be realized only after sanctions have been lifted. Additionally, the two parties have agreed to "install as soon as possible a divided family meeting facility" at the joint liaison office in Kaesong that opened on Sept. 14.
It is a plan that envisions twin venues of inter-Korean exchange and cooperation to east and west of the peninsula's midpoint.While on one hand Moon and Kim have set off on an irreversible journey of lasting peace with the Pyongyang Summit, they have also presented a blueprint for making inter-Korean relations regular, constant and permanent.
By Lee Je-hun, senior staff writer Please direct comments or questions to [[email protected]]
.
In a gesture of peace, two leaders dip their hands into Heaven Lake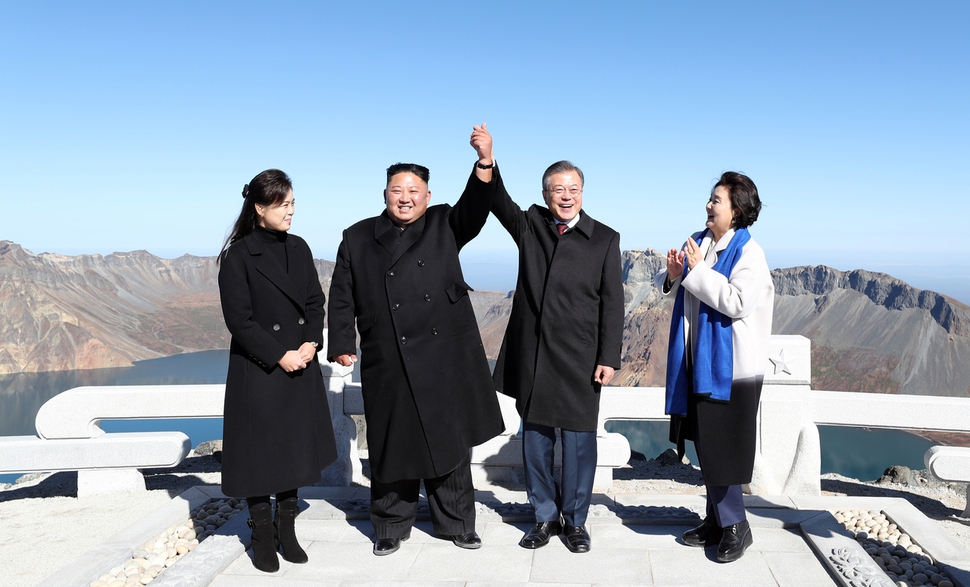 The leaders of South and North Korea climbed Mount Baekdu together all the way to Cheonji (Heaven Lake) at the top on Sept. 20.After dipping the image of a new history into Heaven Lake, so deep that its water never dries, I'm going to write a new history of the two Koreas from this moment forth." (North Korean leader Kim Jong-un)"Now that the first step has been taken, more will follow in our footsteps, and I believe we are embarking upon an era where average South Korean citizens will be able to climb Mount Baekdu as tourists." (South Korean President Moon Jae-in)
South Korean President Moon Jae-in and North Korean leader Kim Jong-un climbed the North Korean side of Mount Baekdu (which straddles the border between North Korea and China) to the mountain's highest point, Janggun Peak, at 2,750m above sea level. Under a clear blue sky, the two leaders clasped hands and raised them high above their heads. As hiking buddies, the leaders of South and North Korea even went down into the crater of Heaven Lake and dipped their hands in the water.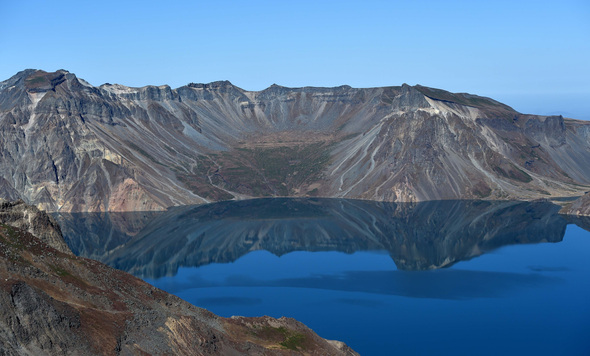 Heaven Lake ㅐㄹ Mount Baekdu
The two leaders arrived at Janggun Peak, from which the entirety of Heaven Lake is visible, at 9:33 am. Standing underneath a deep blue sky without a cloud in sight, both Moon and Kim revealed their true, unadorned selves."The Chinese are jealous," Kim explained, "because they can't go down to Heaven Lake. But we can."Moon then asked, "Where's the border [with China]?" Kim pointed to the border and offered his personal insight."It's best to see in July and August," North Korean first lady Ri Sol-ju said. "When the rhododendrons are in full bloom."
"We also have rhododendrons in our back yard back home," Moon said.
"The sunrise is the real spectacle, not the flower," Kim said.
"Mount Halla also has Baekrokdam (White Deer Lake), but the water doesn't come from a spring below. Rather, the lake's formed entirely of rainwater, so it's quite dry during droughts," Moon said.
When Kim asked how deep Heaven Lake was, Ri replied that it was 325m deep."There are lots of legends surrounding Mount Baekdu," Ri continued. "Some say a dragon lived here before flying off into the sky, while other stories say 99 fairies descended to bathe in the water because it's so clear before going back to the heavens. Today, the arrival of the leaders of the two Koreas has created a new legend."
"When interest in Mount Baekdu was at its height [back in the day], many South Koreans climbed the Chinese side of the mountain," Moon reflected.
"But I resolved even then to climb the mountain not on the Chinese side but on Korean soil," he continued.
"I thought the day would come soon, but it only got further and further away. I thought the day would never come, but at last my wish has been fulfilled."
Kim may visit Mount Halla in return during his visit to Seoul
Kim suggested to Moon that they descend the crater to Heaven Lake. Smiling, Moon said, "As long as Heaven Lake is okay with it, I'd like to dip my hand into the water."
On the way down, Moon repeatedly thanked Kim for his hospitality. "When I think of the welcome I've received yesterday and today, I feel determined to repay the hospitality when you come to Seoul.""We should build a helicopter pad on top of Mount Halla," said South Korean Defense Minister Song Young-moo, who had tagged along for the hike.
"When you come to Seoul, we'll take you to Mount Halla," said South Korean Minister of Oceans and Fisheries Kim Young-choon, who was also present."
We've actually brought some water from Mount Halla," said South Korean first lady Kim Jung-sook.
"I'll go down to Heaven Lake, pour out half into the lake, and fill the empty half with its water," she added.Upon arriving at the lake's shore, Moon and his wife sat down and dipped their hands into the water.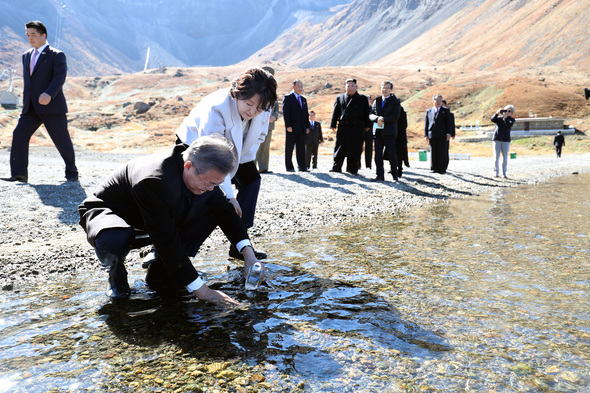 By Seong Yeon-cheol, staff reporter Please direct comments or questions to [[email protected]]
.